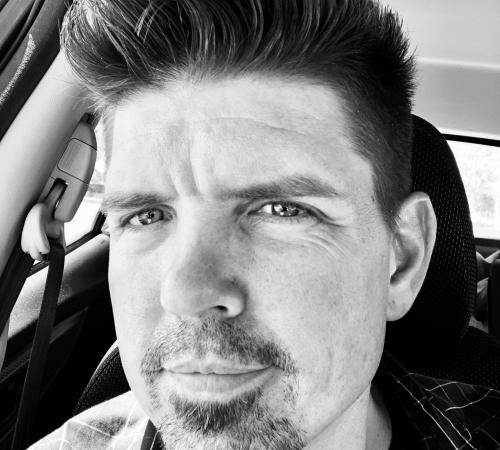 Jeffery Haley
LMT, BKP
Jeffery invites you to take a moment and 'unplug' from the day to day hustle and 'plug in' to the here and now. He encourages you to take a minute to pause from the social chatter and to be still. He wants you to bring your stress, tension, aches, pains and take a minute (or two) to Relax, Unwind, Renew… Feel Better!
Jeffery Haley, LMT has been NY licensed and nationally certified in therapeutic massage since 1999. He is owner of the Massage Station Ithaca and offers therapeutic chair massage, wellness programs for local businesses, special events and an AWESOME walk-in chair Massage Station at GreenStar Natural Foods Market! He has been offering his services at the walk-in chair Massage Station since 2010 and finds it to be a wonderful way to serve the community. He combines his training in medical chair massage and meridian energy balancing into his seated massage routines. In addition he uses advanced muscle energy techniques to help bring balance to the body, relieving pain while increasing range of motion. Jeffery uses his knowledge to facilitate his clients reaching their goals from relaxation to pain reduction. Leaving them physically balanced and mentally alert.
Jeffery manages a Massage/Kinesiology practice in Ithaca. He has been practicing therapeutic massage since 1999 and started integrated energy kinesiology in 2009. Jeffery holds a position as faculty at the International College of Healing Arts (ICOHA). He has also traveled abroad training directly with Dr. Bruce Dewe and Joan Dewe, the founders of the International College of Professional Kinesiology (ICPKP).
Jeffery specializes in the biofeedback system of muscle testing for: pain management; advanced muscle correction including regional muscle protocols, ligament and joint; injury recovery; and advanced emotional and stress management techniques.
Jeffery's kind, nurturing spirit combined with his commitment and experience provide an environment ideal for achieving your goals. He believes with the right focus and support the body will heal. He is committed to helping his client discover this potential.
Current Certifications and Licenses:
National Certification for Therapeutic Massage and Body Work (NCTMB)- #157760-00
New York Licensed Massage Therapist (NYLMT) - #012699-1
Certified Massage therapist (Connecticut Center for Massage Therapy)
Certified Kinesiology Practitioner (ICPKP, ICOHA)
ICPKP Faculty (ICPKP, ICOHA)
Certified K-Power® Instructor (ICPKP)